Louis L'Amour's Lost Treasures
A portion of a much larger biographical effort, with Louis L'Amour's Lost Treasures Beau L'Amour creates the "professional biography" of his father. It is Louis L'Amour, his successes, struggles, failures and aspirations, as seen through the lens of his work.

The Lost Treasures project manifests itself in a number of ways:

Several dozen "postscripts" that Beau will be adding to his father's long beloved novels which describe the "story behind the story."

Three new books, two collections of unsold or unfinished material, Louis L'Amour's Lost Treasures Volume One and Volume Two, which examine Louis' journey as a writer through "what might have been," and the third which is Louis' first novel, begun in 1938 and now completed in a cross generational collaboration with Beau L'Amour.

Lastly there is the website, louislamourslosttreasures.com which describes the entire effort and offers additional materials along with photos, scans and movies.


Louis L'Amour's Lost Treasures Volume I
---
In Louis L'Amour's Lost Treasures Volume One, Beau L'Amour presents twenty-one of his father's unpublished manuscripts. These entertaining selections range from the first four chapters of a chilling Western Horror novel to a complete movie treatment on the middle eastern adventures of a swashbuckling archeologist. Using hand written notes, journal entries and correspondence, as well as his own memories, Beau L'Amour reconstructs how the different stories would have fit into the arc of his father's career as well as how the unfinished works might have ended. It is a deeply personal exploration, exposing the challenges hidden behind Louis L'Amour's effortless style and dynamic career.

The scope of these selections celebrates L'Amour's vision and virtuosity. Included within are variations on the traditional Western: like the first seven chapters of a powerful novel on the Cherokee removal and the Trail of Tears, and a story of the American Revolution featuring a character who may be one of the Sackett family. At the other end of the spectrum are classic Adventures like The Golden Tapestry, set in 1960s Istanbul, as well as several uniquely different attempts at what would have been the most profoundly intimate of all of L'Amour's novels; a saga of reincarnation that stretches from a time before time, to the period of Alexander the Great, and on to the era of War Lord China.

Illustrated with rare photographs and examples of hand written notes, this book reveals the L'Amour you have never known, his personal struggles as a writer and the contest between mortality and a literary legacy too big for one life to contain.
CLICK to find out more about Louis L'Amour's Lost Treasures Volume I.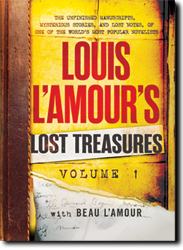 BUY IT NOW!
No Traveler Returns
---
S.S. Lichenfield
Fate is a Ship ... a tanker west-bound on the eve of WWII. Aboard are thirty-three officers and crew. Thirty-three lives intertwined, by friendship, respect, and a mysterious network of circumstance. Thirty-three lives held separate by fear and prejudice, social class and ambition. A deadly mixture of personalities made all the more explosive by the dangerous nature of their cargo.
No Traveler Returns
has the distinction of being the earliest novel length work by Louis L'Amour. The first indication that he was working on this book is in a journal entry from June 9th, 1938. He mentions that he intends to "finish
No Traveller Returns
tomorrow."
It was a time when several different versions of Louis's professional and creative life were colliding. He was writing the semi-autobiographical "Yondering" style stories, of which
No Traveller Returns
is one, and he was promoting himself as a character similar to the protagonists found within their pages: a self educated yet blue collar adventurer and world traveler. He was making a name for himself in the Oklahoma poetry scene and other literary circles. And, much more important, he had just begun selling material to the pulps, high adventure and crime stories, that were more visceral and melodramatic than his other work. He rationed his time between one style and another, hoping more than anything, that both would take off.

CLICK to find out more about Louis L'Amour's No Traveler Returns.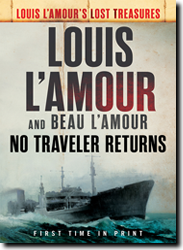 BUY IT NOW!
Louis L'Amour's Lost Treasures Volume II
---
Volume Two examines the times in which L'Amour was experimenting with some of the most important elements of his Talon and Chantry novels, as well as a Science Fiction story about catastrophic climate change, seventeen chapters of an Adventure novel set in 1960s China and Tibet, plus five complete treatments and short stories. Exploring the family history through personal recollections, letters and diaries, Beau L'Amour explains how these and other tales draw back a curtain to reveal the details of his father's most personal creative experiences.

Once again we find Louis working to expand his repertoire beyond that of the American West while at the same time satisfy his loyal fans. Lost Treasures Volume Two contains the beginning of a novel about a mountain man hunted by the murderous agents of the Hudson's Bay company as he attempts to find his long lost Native American son ... a son who, unbeknownst to him is in pursuit along with the company's trackers. There is also a spooky tale of a wandering gunslinger who happens across the wilderness estate of a mysterious slave owner attempting to maintain his way of life years after the Civil War as well as the beginning to the Western novel that may have been an inspiration for Louis's autobiographical short story collection, Yondering. The final selection is the first ten chapters of the novel L'Amour was writing on his deathbed, a Western Mystery that was a sequel to Borden Chantry.

Illustrated with personal photographs and copies of handwritten notes, the Lost Treasures books reveal the Louis L'Amour unseen by the world, both in his personal struggles as a writer and in the contest between mortality and a literary legacy too big for one life to contain.
CLICK to find out more about Louis L'Amour's Lost Treasures Volume II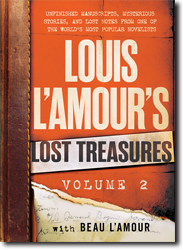 BUY IT NOW!
---
The Louis L'Amour's Lost Treasures Bonus Material Editions With Postscripts by Beau L'Amour