Audio Books - Production and Development
From the mid 1980s to the late 1990s Bantam Audio Publishing produced four to six Louis L'Amour Dramatized Audio Productions each year. Working as Writer, Director, Actor, Foley Artist, Casting Director, Art Director, and Supervising Producer, Beau L'Amour has molded the Louis L'Amour Dramatized Audio Series into one of the most successful programs in the audio publishing market. Equally successful has been his efforts in the area of Single Voice Audio, seventy audio books and counting ...
The Diamond of Jeru
---
An ex-Marine on the run from the nightmares of war. An American scientist and his beautiful wife on a desperate journey to save their marriage. An aging native shaman trying to teach his grandson one last, all important, lesson. All are headed up an uncharted river into a confrontation with a mysterious warlord trapped by a deadly curse.

The Diamond of Jeru is a tale of love, redemption, heroism, and magic from the master storyteller Louis L'Amour adapted for audio and directed by Beau L'Amour.
The Lacklan's at their hotel -


Inghai Tells the story of Jeru -


Helen won't leave Mike -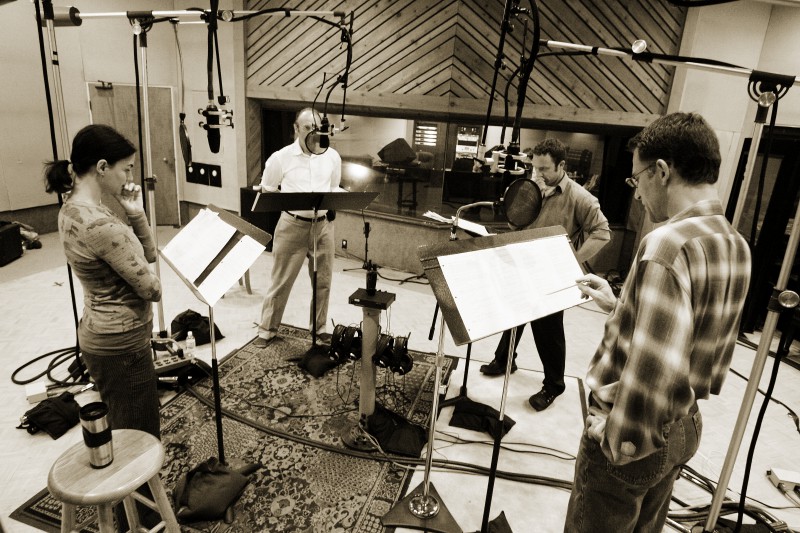 Tracy Dinwiddie (Helen), Time Winter (John), Joel Bryant (Mike) and Beau L'Amour working a scene.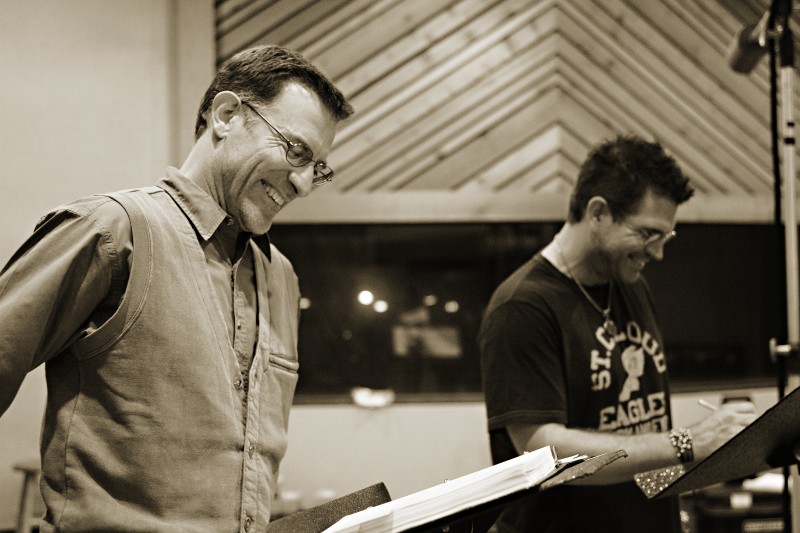 Beau L'Amour and Paul Gannis (Sergent) enjoy a moment during the recording of the opening scene of "The Diamond of Jeru."
Son of a Wanted Man
---
In a remote corner of California's High Sierra mountains lies the secret outlaw kingdom of Ben Curry. For fifteen years Curry has ruled supreme. But the king is getting old. He wants to turn his legacy over to someone and get out - someone like Mike Santos, his adopted son. Mike is a young man who can handle a knife, a gun, his fists, and who's been trained in every criminal skill. But so far he's a man who's never broken the law. Now, as treachery explodes among Ben's riders, Mike must choose...between his loyalty to Ben and his yearning for a different life.


Round House -


Mike and Dru flirt in stable -


Mike and Ben have it out -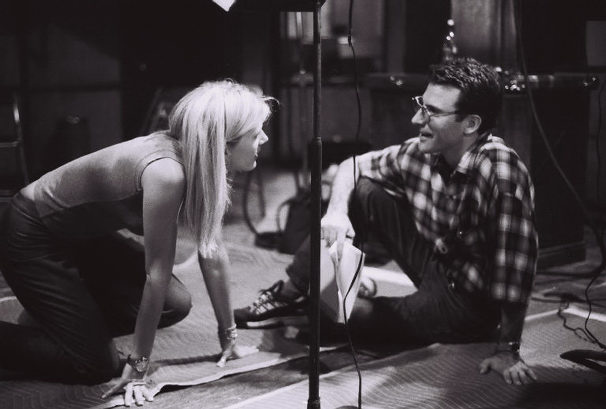 Beau L'Amour and Dierdre (Drucilla). To hear action in the actors voice, often times involved movement in the recording studio. Here Dierdre will stand as she talks giving her voice just the right inflection.
Beau L'Amour's truck houses the location recording equipment package. All of the sound effects are custom recorded and Beau acts as the foley artist.
Merrano of the Dry Country
---
When Miguel Merrano first came to Mirror Valley, the land was green and lush . . . and off limits to Mexicans. Ranchers such as Tom Drake and Joe Stangle tried to drive Merrano out, to fence him out; and whe he warned them that greed and overgrazing would ruin their land, they refused to listen.

Now Merrano's predictions have come true. Mirror Valley is so dry it's about to blow away. The cattle are hollow-ribbed and dying. And the ranchers are broke . . . flat broke. Only Merrano's ranch is still thriving. As the ranchers watch him pay for goods in gold and sell his cattle at a mighty profit, their hatred grows and festers . . . until they draw their guns in a desperate act that will pit daughter against father, friend against friend - an act that could tear the valley apart forever.
Merrano Accused -


Marrano's Fence -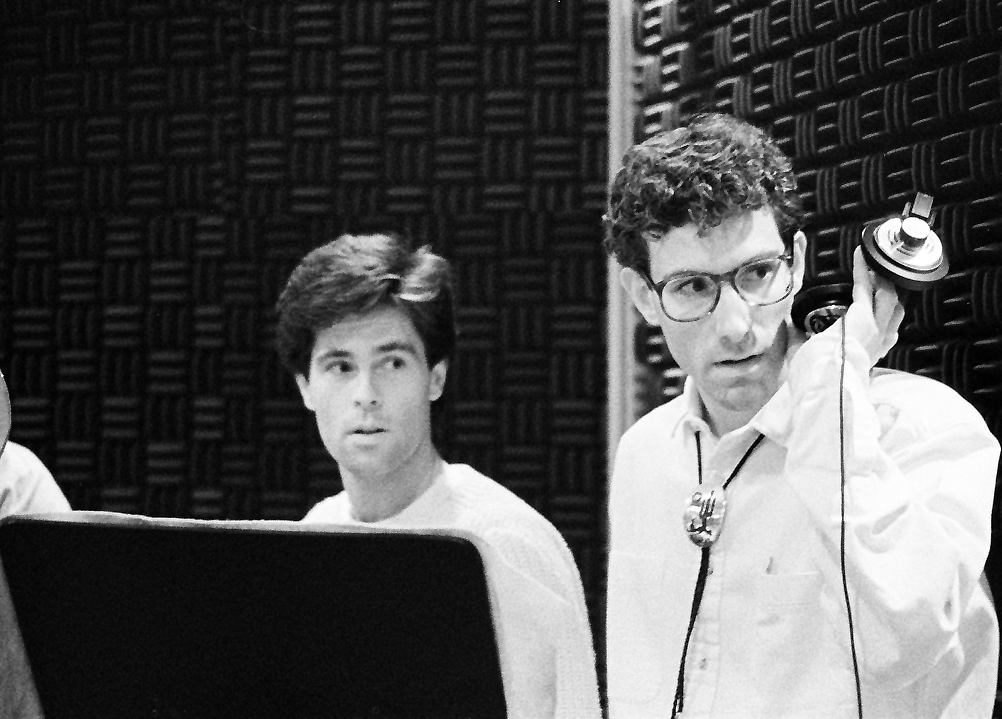 Charles Van Eman (Price) and Beau L'Amour getting some notes from the control room.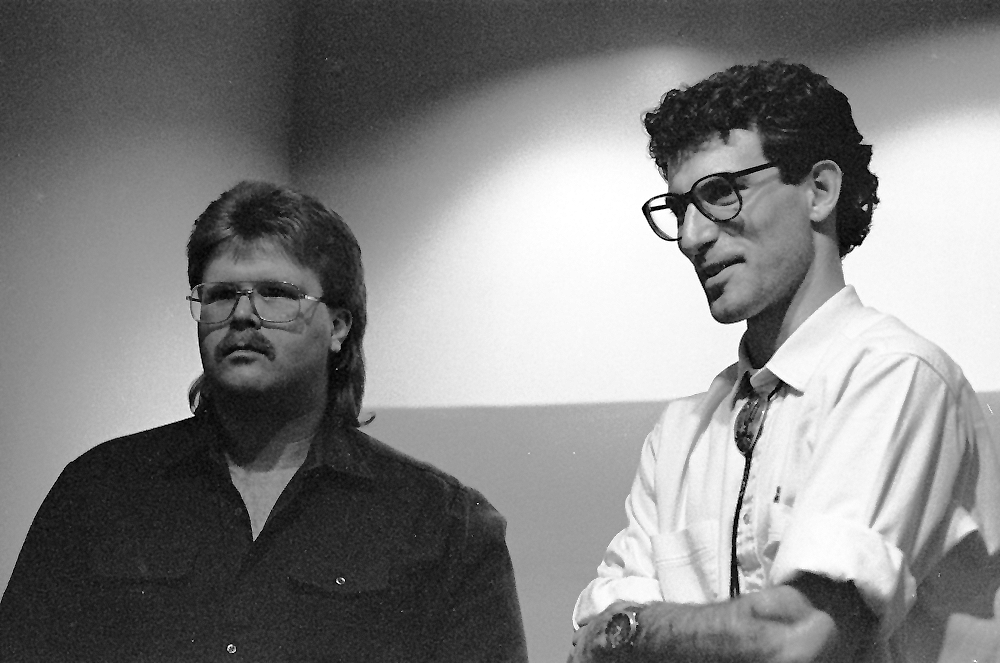 Paul O'Dell (Producer/Editor) and Beau L'Amour (Writer/Director) in the control room during the recording of "Merrano of the Dry Country."
Unguarded Moment
---
Arthur Fordyce is an ordinary man blessed with a budding career, a lovely fiancee, and a sunny future. He is hardly a criminal - until he finds a wallet stuffed with money at the racetrack. In one "unguarded moment," he removes the cash and throws the billfold away - unaware that he is being watched by a petty crook named Bill Chafey. Unscrupulous and conniving, Chafey approaches Fordyce to demand a payoff. And Arthur Fordyce, scared and guilty, takes his first step toward a downward spiral of violence, double-crossing, and near ruin.
Bill confronts Arthur -


Gracie calls Arthur -