Beau L'Amour Shares
His Experiences and Knowledge
---
Author to Author Interview
"Bill Kenower welcomes author Beau L'Amour to the show. Beau is a writer and entertainment industry jack-of-all-trades. He is the son of bestselling novelist Louis L'Amour and has managed his father's literary estate since 1988. Striving to maintain that legacy, he has done editorial work, revised unfinished manuscripts, managed a literary magazine and an audio/radio drama series, done art direction, been a comic book writer and producer and become an expert in marketing. In the years since his father passed away L'Amour has helped sell over 120 million books, nearly 5 million audio programs and placed a number of books of short stories (out of 16 posthumous collections) on the Best Seller lists. Should be awesome!"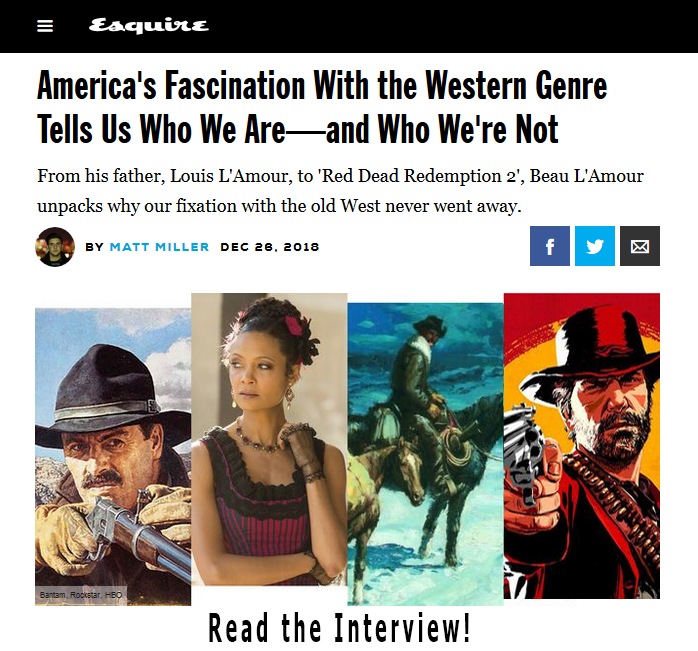 From the pages of
ESQUIRE MAGAZINE
America's Fascination With the Western Genre Tells Us
Who We Are - and Who We're Not
From his father, Louis L'Amour, to 'Red Dead Redemption 2', Beau L'Amour unpacks why our fixation with the old West never went away.
Shortly after his father, Western author Louis L'Amour's death in 1988, Beau L'Amour found a large room filled with loose papers and books.
"There was just all kinds of incredible stuff. It was just piled up almost at random and there was kind of a little path about 14 inches wide that led to his desk," Beau said of what he found in L'Amour's writing room. "Then there was an area about four feet around where he could turn his chair around and stuff."
It's in that room where Beau found that one of the most prolific and popular writers of all time still had stories to tell.
Read the Interview ...